MYTEAMVOICE PC CLIENT APPLICATION

Version: 0.4.0

Released: Mar 14, 2014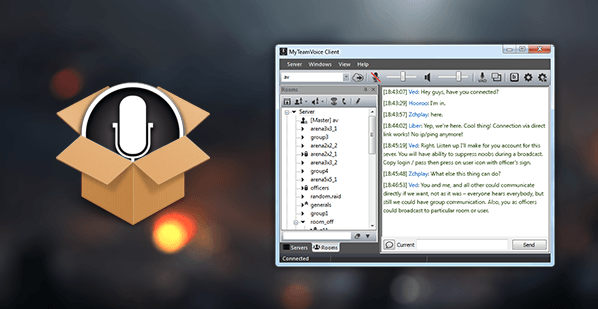 MYTEAMVOICE PC CLIENT APPLICATION
Version: 0.4.0 Release date: March 14th, 2014
Description
MyTeamVoice PC client application allows you connecting to MyTeamVoice voice service. By using it you would be able to communicate with your friends / team by voice and text.
Supported features
Push-to-Talk (PTT)
Voice activity detection (VAD)
Listening rooms (Phantoms)
Rights and Priorities
Manageable hierarchy
Direct communication
Broadcast to multiple rooms
Overlay
Supported codecs
DMR (8 kbps)
SPEEX (8 / 16 / 32 kbps)
GSM (8 / 16 / 32 / 48 kbps)
OPUS (8 / 16 / 24 / 48 kbps)
What's new in 0.4.0 version
Release date: 14 Match, 2014
Unicode support for nicks, rank names, room names.
Updated Client windows.
Extended a list of user states icons, improved behavior.
Main menu rearrangement and behavior improvements.
Updated localizations.
Improved validators for input fields.
Fixed interface repainting and reduced flickering.
Room tree
Improved Room tree behavior.
Fixed Room's toolbar behavior related to displaying tools set according to user rights and state.
Left/right keys collapse/expand room in tree.
Added button "Find myself" in a room tree.
Fixed crash related to room creation from context menu.
Improved Search functions.
Listen rooms
General improvements.
Changed behavior of Mute / Unmute all listeners: button is set to unmute only if all listeners muted.
Added new listener does not take into account "Mute / Unmute all listeners" flag state.
Hotkeys
Improved hot keys processing.
Chat window
Improved behavior and bugs fixes.
Reduced flickering.
Increased output speed.
New chat fixes selection and scroll position if new lines appears (to read or copy messages).
Servers
Improved data validation.
Starred servers saved between client's sessions.
Added separate dialog to connect by URL.
PTT/SPTTs/VAD
Added special notification when microphone is muted or output volume is set to 0.
Added special warning on trying to use more than one PTT at the same time.
Improved and bug fixes of PTT and Smart PTT functions.
Fixed bugs of Fading option.
Settings
Fixed problem with warning and information overlay text colors.
Overlay text size is now limited.
Overlay presets (themes) fixes.
Admin settings
MOTD now do not have size limits.
Usability improvements and bug fixes.
Added sort function to tables.
Fixed problems related to incorrect saving of text data.
Bindings
Usability improvements.
Now bindings uses user local date-time for server bindings.
Media / sounds
New sound for system alerts.
Removed annoying sounds.
Now Client restores microphone settings when client releases the device.
All sounds are normalized.
Fixed problems related to media devices.
Overlay
Extended a list of games which overlay is supporting.
Made visual improvements to overlay windows.
Now overlay shows users' ranks.
Added a mode that will show a listened room's name when someone talks there.
Improved reliability.
Fixed bugs which made overlay blinking.
Fixed bugs which slowed down updates of users' states.
Now users may change rooms from overlay window.
Removed user's icon doubling on using Smart PTT functions.
Improved processing of hotkeys and fixed related problems.
Improved text displaying.
Fixed problems with text input in overlay chat and other applications.
Extended support of DirectX 10 and 11, fixed related problems.
Fixed processing of chat commands /r, /w.