Rank based rights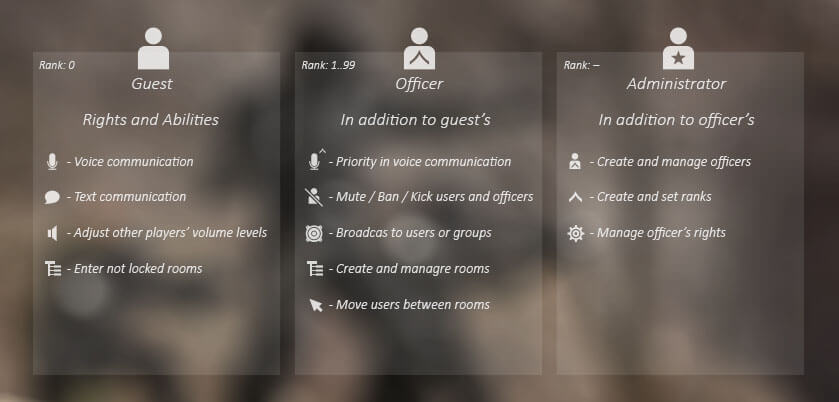 MyTeamVoice voice servers support 3 types of users:
Guest - any user, who connects to a server using general password. Such user would have rank 0 (Guest). Guests may use basic communication functions.

Officer - user which got a username and password from the Administrator. Administrator laso may set a rank and rights of an officer. Officers have extend communication and management functions.

Administrator - an owner of a server. Administrator could create officers and deligate them part of administrator's rights. Administrator uses own password to connect to a server.
Guest
General users of a voice server, which used a common password to connect to a voice server.
Guests may:
Communicate by text and voice in groups.

Navigate between groups, which are not closed to them.

Adjust microphone level, general volume, and individually an output volume of each other player for himself.

Add users to own black list.

Make individual calls.

Listen other groups.

Make own and export others key bindings.
Officer
An user created by the Administrator for managing a voice server and users. Officer additionally to guest may:
Communicate with priority, muting other players with lower ranks.

Mute user from whole voice server.

Disconnect (Kick) users from server and block their re-connection.

Create and manage rooms (groups), limit access to them.

Move users between rooms.

Create and set ranks.

Change right of other officers.
Administrator
During a process of a voice server creation it is need to enter two passwords. The first own for guests, the second own for himself (for further server administration).

Creation of officers, ranks, set up message of the day for guests and officers and other administration function are available in "Administrator settings" window.
If you are connected to the server as a guest and you want to administrate it - click in the main menu Server->Administrate, then enter administrator's password .