Connecting to the own voice server
Sign In to the MyTeamVoice Account.
Go to "VOICE SERVERS" section.
In the table click on the desired server.
On the server page click "Connect" button.
After that you may receive a notification about calling of the external protocol.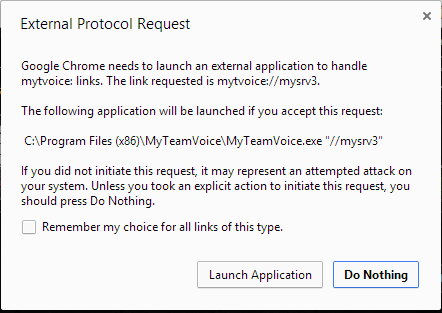 You should tick the checkbox "Remember my choice …" and click "Run application".
After that MyTeamVoice Client will be started and connect to your server.
Related
Changing parameters of the voice server
From administrator's web page an owner of a voice server may change access passwords, server's name, default voice codec, messages of the day and much more.
Read more
Edit personal data
Entering real personal data helps us to have better understanding of who you are and as consequence improve provided voice communication service.
Read more